Essential Oils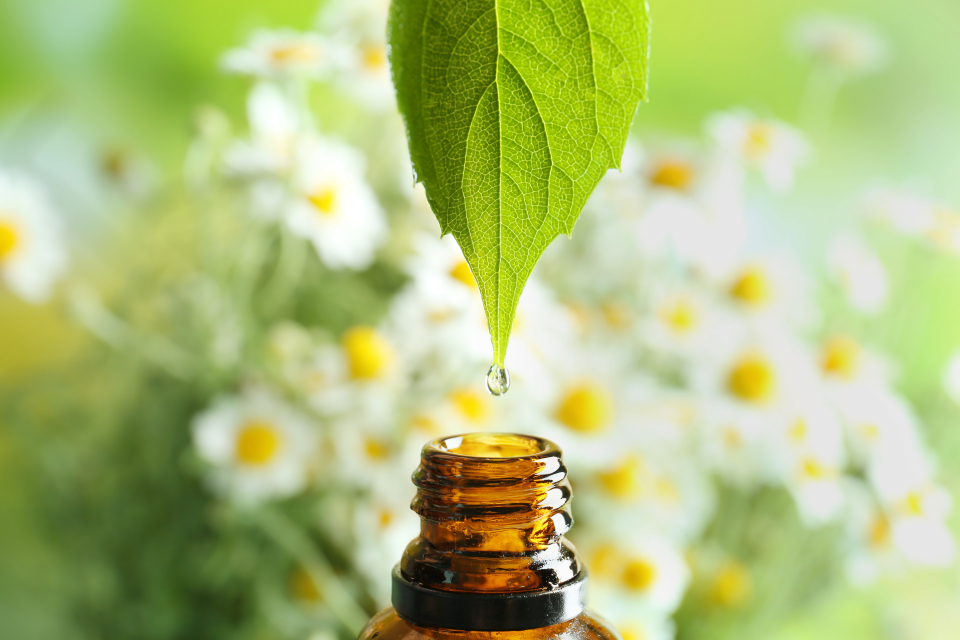 Life-changing, natural chemical compounds.
Essential oils have been used in the management of oral disease and oral symptoms for thousands of years. Here at THE ēSSENTIAL DENTIST, we are bringing natures healing remedies into our Pleasant Grove office in every way we possibly can.
What are essential oils?
Essential oils are the essence of a plant, a gift from the earth, distilled and prepared for you to bring the power of nature into your home.
Inside many plants—hidden in roots, seeds, flowers, bark—are concentrated, highly potent chemical compounds. These natural compounds are essential oils.
Essential oils give a plant its scent, protect it from hazardous environmental conditions, and even assist it with pollination, among other important functions and benefits.
What oils are used in our office?
While we use many essential oils in our office, we've provided a list below so you can learn about each along with their respective benefits and usage.
*These statements have not been evaluated by the U.S. Food and Drug Administration (FDA). These products are not intended to diagnose, treat, cure, or prevent any disease.
Ozone Therapy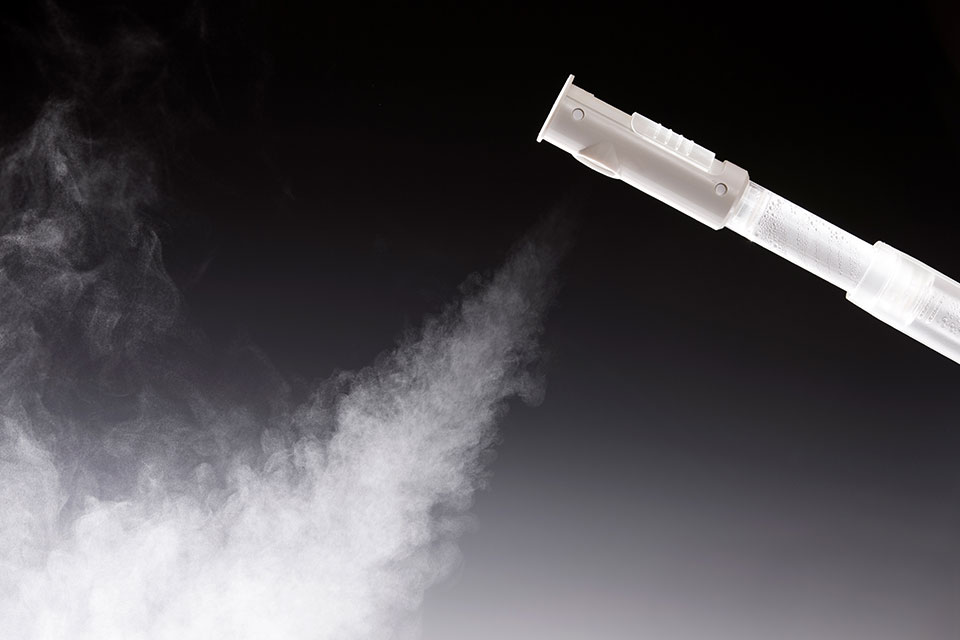 Definition: Ozone (O3) is a highly reactive gas composed of three oxygen atoms. It is both a natural and a man-made product that occurs in the Earth's upper atmosphere. Ozone can be created for use in ozone therapy by using an oxygen tank or oxygen concentrator with a good ozone generator (ozonator) capable of creating ozone. The ozonator essentially attaches an extra oxygen molecule to the traditional double oxygen molecule (O2) which becomes ozone (O3). Almost immediately, that single molecule will break off and start attaching itself to the walls of viruses, bacteria, fungi, molds, parasites, pesticides, chemicals, poisons, rotting matter, odors, yeasts, and weakened cells.
A singlet Oxygen molecule breaks away from O3 molecule and neutralizes pathogens, turning them into dead debris that can then be eliminated from the body. Cells that are susceptible to ozone are those that have weak or simplistic enzyme coatings – healthy cells cannot be penetrated. Unhealthy cells including bacteria and other harmful pathogens are destroyed and carried away by the circulatory system where the elimination organs can get rid of them.

Tooth Decay: We can place Ozone gas over an area of infected tooth tissue (tooth cavities, caries), kill the bacteria, and possibly prevent continuation destructive effect of the bacteria causing the dental decay.
Tooth Desinsitization: Ozone gas and ozone water have show to have great effect on desensitizing surfaces that are are hot and cold sensitive or touch sensitive. The patient may need multiple treatments for continued success.
Surgical Area Disinfection: After a surgical procedure has taken place in the mouth, Ozone Gas or Ozone Water can be placed in the treatment area to prevent adverse side effects and sequela as a result of bacteria and other pathogens entering the surgical site.
Periodontal Disease Treatment: While performing a "deep cleaning" of gum tissue areas that have periodontal disease (infection of the supporting tissues and bone around the teeth) ozone water is used to flush out the area and disinfect the tissue creating an increased healing and anti-inflammatory effect.
Sinus Infection Treatment: A simple infiltration (sufflation) of the sinus with gas can kill harmful bacteria in the nasal sinuses reducing pain and accelerating healing from this annoying infective process.
Root Canal Sterilization: We use Ozone Water, ultrasonically vibrated into the intricate and microscopic infected dentinal tubules, to kill bacteria and other harmful pathogens from the inside out of root canals. This greatly increases the success rate of root canal (Endodontic) procedures. Using this in combination with essential oils, a root canal procedure can be extremely legitimate way of healing an infected tooth.
PRF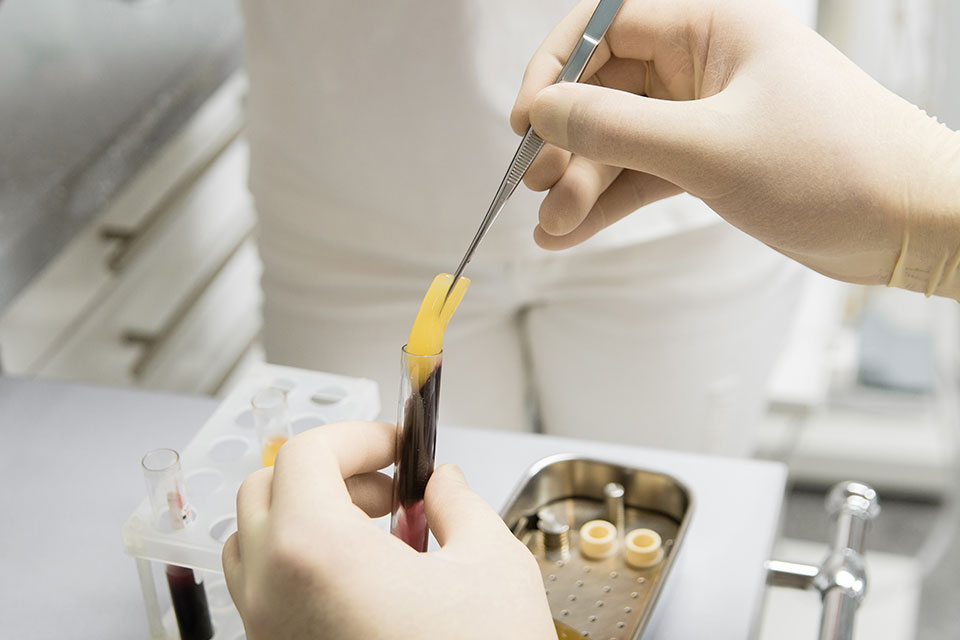 PRF, or platelet-rich fibrin, is a treatment for wound healing using platelet concentrate. PRF is a fibrin matrix comprised of platelet cytokines, growth factors and cells used to improve and accelerate wound healing.
We do a simple blood draw and collect the sample into tubes.
We then centrifuge the tubes for 5min.
The tubes are taken out of the centrifuge and the top portions of the centrifuged tubes are drawn up to obtain the PRF for clinical treatment.
Fibrin is a biological scaffold that forms in response to an injury anywhere in the body. Platelets circulating in the blood will bind to a scaffold of fibrin. When platelets bind to the fibrin scaffold, they become activated and release growth factors, which start the wound healing process by creating new gum tissue, bone tissue, collagen and blood vessels. By putting PRF into a healing area in the mouth, a controlled inflammatory response is created, which kick starts new cell growth, collagen production, and new tissue growth including bone.
We draw blood before a surgical procedure, prepare the PRF, and place this around or in the surgical site for increased healing, increased speed of healing, and reduced pain.